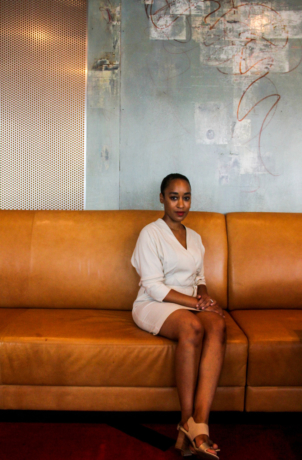 Insight Speakers
TEKA SELMAN
Insight Series Q&A Forum Speaker:

Teka Selman has been integrally involved in the contemporary art world for over fifteen years, working extensively with artists, collectors, and institutions as an art dealer, curator, museum professional and writer. Teka founded Selman Contemporary, an art and advisory firm based in Durham, NC in 2013. Through her roving curatorial project, The Citizen, she brings socially and politically relevant film, video, sound and installation projects by visual artists to non-traditional spaces. Past curatorial projects include Here at the Pennsylvania Academy of Fine Arts; Present Tense Future Perfect at Jazzar Contemporary, Miami, FL; Configured at Benrimon Contemporary, New York. Teka has lectured on contemporary art at institutions including the Barbados National Art Gallery; Nasher Museum of Art, Duke University, NC; Bienniale of Sydney, Australia; and the Venice Bienniale. Her writing on artists such as Mark Bradford, Coco Fusco and Kara Walker has been featured in publications including The Black Moving Cube (The Green Box Kunstedition, 2006) and Freestyle (Studio Museum in Harlem, 2001), as well as various magazines and journals. She holds an MA in Visual Cultures from Goldsmiths, University of London, and a BA in Art History and Anthropology from the University of Michigan, Ann Arbor.
---
Insight Series Q&A Forum Moderator:
Christina Renfer Vogel holds a MFA from the Massachusetts College of Art and a BFA from Tyler School of Art, Temple University. In her work, she pursues interaction and perception from her role as observer, interested in the unremarkable and in the relationships that exist within our everyday exchanges. Drawing from the quotidian and familiar, Christina navigates the space between seeing and describing, interpretation and invention. She has exhibited widely, including recent solo exhibitions at Augsburg College (Minneapolis, MN) and the Julia Martin Gallery (Nashville, TN). Christina has participated in artist residencies at the Hambidge Center for the Creative Arts (Rabun Gap, GA), the Virginia Center for Creative Arts (Amherst, VA), the Vermont Studio Center (Johnson, VT), and the Kimmel Harding Nelson Center for the Arts (Nebraska City, NE), and most recently she was an artist-in-residence at JSS in Civita (Civita Castellana, Italy), supported by a Lighton International Artists Exchange Program grant. She is a recipient of an Elizabeth Greenshields Foundation grant among other awards. She joined the faculty at the University of Tennessee at Chattanooga in 2013 where she serves as Assistant Professor of Painting and Drawing.