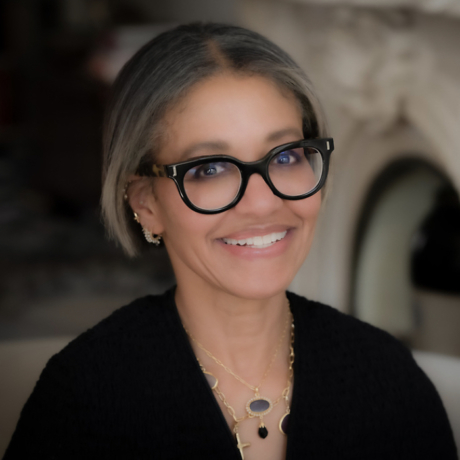 Insight Speakers
MERELE WILLIAMS-ADKINS
Tri-Star Arts is pleased to partner with Tone Memphis in co-presenting "An Evening with Merele Williams-Adkins". This collaborative event featuring Merele Williams-Adkins of New York, NY represents the revival of our visiting speaker series and will take place on Friday, June 10 at 7:00pm (CDT) at Tone HQ, 2234 Lamar Avenue, Memphis, TN 38114. All are invited!
Merele Williams-Adkins is a graduate of the University of Virginia and the Georgetown University Law Center. She was an Associate at a big Wall Street law firm but gave it all up to raise her two extraordinary children, Titus and Turiya. While they were in school, Merele decided to pursue an, ultra flexible, job selling real estate at the Corcoran Group in Brooklyn. She was one of the top producers and named Rookie of the Year. She now works at the Compass Group. Most importantly, however, Merele manages the Estate of her late husband, Terry Adkins, a sculptor, musician, Professor at the University of Pennsylvania, mentor and true genius. She is on the Board at the Hood Museum, the Laundromat Project, and Baldwin for the Arts. Merele loves and devotes most of her time absorbing the beauty of the arts and the spirit of emerging artists that she is fortunate enough to interact with. It is truly where her joy lies, along with the love of her children, family and friends. As her 97 year young Mother would say, "she is blessed" beyond measure.
++++++++++++++++++++++++++++++++++++++++++++++++++++++++++++++++++++++++++++++++
About Tone Memphis:
Culture should belong to its creators. In Memphis, our culture is built by Black artists, creatives, and communities. Tone elevates the people and places that make our city drip with character. Tone empowers Black artists and communities so we can share creativity and knowledge across the spectrum of Blackness in order to elevate Memphis as a global cultural beacon. We prioritize programming that elevates Black artists creating culture. Our exhibitions, concerts, talks, panels, screenings, readings, and round-tables are the absolute core of Tone. We build connectivity in the Black community through partnerships, block parties, storytelling, and more. And, we seek out partnerships that create a deep infrastructure for Black artists in Memphis.
About Tri-Star Arts:
Tri-Star Arts serves Tennessee by cultivating and spotlighting the contemporary visual art scenes in each region while fostering a unified state-wide art scene. Tri-Star Arts programs promote art dialogue between the different cities in the state, and between the state and the nation. Tri-Star Arts initiatives include a gallery space and artist studios at the historic Candoro Marble Building, Current Art Fund grants, state-wide exhibition projects, a speaker series, digital content, the 2023 Tennessee Triennial, and the LocateArts.org web resource.