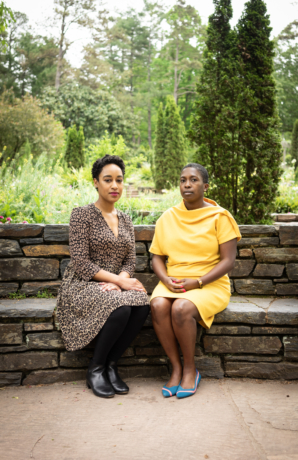 Insight Speakers
LAUREN HAYNES + TEKA SELMAN
Visiting Speakers:
Lauren Haynes is currently Curator of Contemporary Art at Crystal Bridges Museum of American Art in Bentonville, Arkansas where she co-organized the recent exhibition, The Beyond: Georgia O'Keeffe and Contemporary Art. Haynes is also the Curator of Visual Arts at The Momentary, a new contemporary art satellite space opening in Bentonville in 2020. She is currently co-curating the next iteration of State of the Art opening at Crystal Bridges in 2020. Most recently, she curated the 2019 Focus section of the Armory Show, New York. Prior to joining Crystal Bridges in October 2016, Haynes spent nearly a decade at The Studio Museum in Harlem where she was, most recently, the Associate Curator for the permanent collection.
At the Studio Museum, Haynes curated more than a dozen exhibitions including Speaking of People: Ebony, Jet and Contemporary Art and major solo shows featuring Alma Thomas (co-curator), Stanley Whitney, and Carrie Mae Weems, among others. She oversaw their prestigious Artist-in-Residence Program for several years, as well. Haynes has authored several landmark catalogues, such as The Bearden Project (2011), and has also contributed to: Gordon Parks: A Harlem Family 1967 (2012); Re: Collection (2010) and Harlem: A Century in Images (2010). Her innovative curatorial work has received favorable recognition in publications such as the New York Times, The New Yorker, The Wall Street Journal, and Art in America. A native of East Tennessee, she received a BA in Art History at Oberlin College.
---
Teka Selman is an independent curator based in Durham, North Carolina. Most recently, she curated Heather Hart's monumental, interactive installation Southern Oracle: We Will Tear the Roof Off (2019) at the North Carolina Museum of Art, Raleigh. Prior to her work as an independent curator, she was the founding associate director of the MFA in Experimental and Documentary Arts at Duke University. She also has extensive experience as a museum professional, writer, and gallerist at institutions including the Museum of Contemporary Art, Chicago; Gagosian Gallery and Sikkema Jenkins & Co in New York; and Branch Gallery in Durham.
Selman has lectured on contemporary art at institutions including the Barbados National Art Gallery, Nassau; Ackland Art Museum, Chapel Hill, NC; Nasher Museum of Art, Duke University, NC; 17th Bienniale of Sydney, Australia; and the International Curators Forum Symposium at the 2009 Venice Bienniale. Curatorial projects include The Citizen, a roving exhibition of moving image works in Durham, NC; Here at the Pennsylvania Academy of Fine Arts; Present Tense Future Perfect at Jazzar Contemporary, Miami, FL; and Configured at Benrimon Contemporary, New York. Her writing on artists such as Mark Bradford, Coco Fusco and Kara Walker has been featured in publications including The Black Moving Cube (The Green Box Kunstedition, 2006) and Freestyle (Studio Museum in Harlem, 2001). Born and raised in the suburbs of Detroit, Selman studied Art History at the University of Michigan, Ann Arbor and received an MA in Art History and Visual Culture from Goldsmith's, University of London.