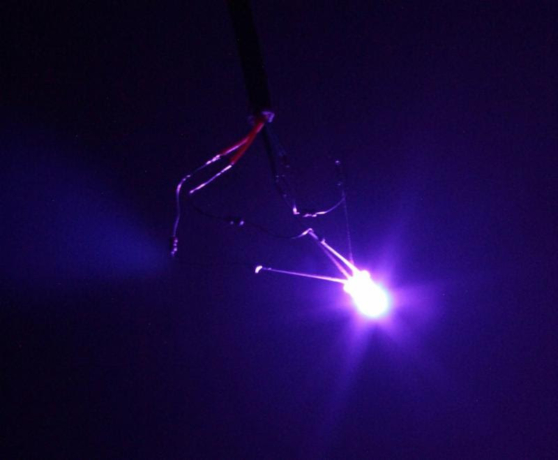 Exhibitions
VOYAGER ONE
August 1, 2015 - September 14, 2015
David Bowen, Kristina Estell
NOTE: This is a Seed Space exhibition, curated by Rachel Bubis. Seed Space was founded by Adrienne Outlaw.

---
Using custom software and LED lights, Estell and Bowen create a physical and sensory link between this incredibly remote object in space and the human experience.

As the probe travels to extremes in space, our understanding of these landmarks and borders lack tangible connection to our spatial reality. This work creates a very simple connection to this traveling object as a metering device that feeds color information.
As an extension of the physical project within and beyond the gallery presence, the color output of this project is constantly accessible through an archive website that displays a sample of the color formulated from the device's location each day.
About:
David Bowen is a studio artist and educator whose work has been featured in numerous group and solo exhibitions nationally and internationally. Bowen's work is concerned with aesthetics that result from interactive, reactive and generative processes as they relate to intersections between natural and mechanical systems. He is currently an Associate Professor of Sculpture and Physical Computing at the University of Minnesota, Duluth.
Kristina Estell is a visual artist who works primarily in the media of sculpture, installation, and painting. She is interested in themes relating to the function of the human gesture within the complex environment of the 'natural' and how these realms interact. Estell has exhibited work nationally and internationally as well as attended artist residencies within and outside of the US. In 2010, she was selected by artist Dan Graham to receive a full living/working fellowship at the Akademie Schloss Solitude in Stuttgart, Germany for a competitive 10- month visual arts residency. In 2011, she was the winner of the James Hotel Chicago Artist Studio purchase prize for their permanent art collection. Invited in 2014 by the Massachusetts College of Art and Design, Estell completed a large-scale sculptural installation project working from the spatial features of the Stephen D. Paine gallery as part of the resulting Surface exhibition. In January 2015, she will begin a Visiting Artist position at Illinois State University working within the department and teaching a special topic seminar.