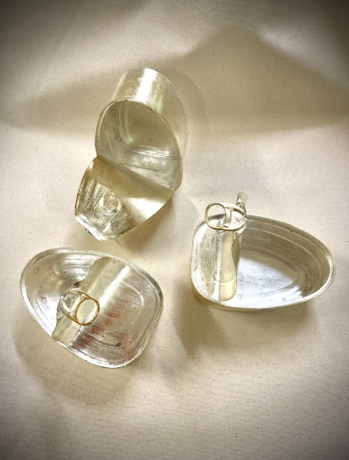 Exhibitions
UNTITLED HAM
September 1 - November 18th
Michelle Grabner
Tri-Star Arts is pleased to present the next exhibition in their Main Gallery at the historic Candoro Marble Building. A solo show, Untitled Ham, featuring new works by artist Michelle Grabner (Milwaukee, WI / Chicago, IL) opens Friday, September 1, 2023 and will run through Saturday, November 18, 2023. Curator: Brian R. Jobe.
An opening reception will be held on Friday, September 1, 2023 from 5:00—8:00 pm (artist in attendance). The address is 4450 Candora Avenue, Knoxville, TN 37920 and admission is always free of charge.
Grabner will give an artist talk the prior day on Thursday, August 31 at 5:30pm at the University of Tennessee School of Art — Art + Architecture building — McCarty Auditorium, Room 109, 1715 Volunteer Boulevard, Knoxville, TN 37996. Free of charge.
The Wisconsin-born and based artist Michelle Grabner is known for her broad perspective developed as teacher, writer and critic over the past 30 years. The site where it all comes together is the studio. Her art making—which encompasses a variety of mediums including drawing, painting, video and sculpture—is driven by a distinctive value in the productivity of work and takes place outside of dominant systems. Grabner instead finds a creative center in operating across platforms and towards community.
Central to the work is the process. Grabner uncovers new dynamic relationships through her visionary practice of repetition. With a deep attention to abstract patterns and all the metaphors they conjure, Grabner pushes the limits of compositional structures to discover the tipping point between stability and precariousness; between continuance and wondrous difference.
Grabner states of her work,"I have always been a painter who examines various power structures inherent in patterns and abstract arrangements. Because I believe that all forms are political, I have committed myself and 30 years of painting to re-articulating vernacular patterns in order to shift the unobserved into critical sight. This general overview has been foundational to my studio work since 1990."
Michelle Grabner (b. 1962, Oshkosh, WI) received her MA in Art History and BFA in Painting and Drawing from the University of Wisconsin–Milwaukee, and an MFA in Art Theory and Practice from Northwestern University. She is currently Senior Chair of the Department of Painting and Drawing at the School of the Art Institute of Chicago, and was a Core Critic at Yale University in the Department of Painting and Printmaking from 2011 to 2014. In 2021, Grabner was awarded the prestigious Fine Arts Guggenheim Fellowship. She returned to Yale in 2020 as a Visiting Artist. A regular contributor to Artforum, her writing has also appeared in publications including Art in America, Frieze, Modern Painters, and Art-Agenda. Grabner co-curated the 2014 Whitney Biennial at the Whitney Museum of American Art along with Anthony Elms and Stuart Comer, and served as the inaugural artistic director of FRONT International, a triennial exhibition in Cleveland, OH and the vicinity that ran from July through September of 2018. She is also the founder and co-director of two non-profit art spaces in Wisconsin, The Suburban and The Poor Farm, with her husband, artist Brad Killam.
The John Michael Kohler Arts Center in Sheboygan, WI recently commissioned Grabner to create an artist-built environment for their new Art Preserve building. This public project opened in June 2021. Grabner has been the subject of solo exhibitions at institutions including the Museum of Contemporary Art, Cleveland; Indianapolis Museum of Art, Hedreen Gallery at Seattle University; INOVA, The University of Wisconsin, Milwaukee; Ulrich Museum, Wichita; and University Galleries, Illinois State University. She has been included in major group exhibitions at the Museum of Contemporary Art, Chicago; Akron Art Museum; Museum of Contemporary Art, Detroit; Walker Art Center, Minneapolis; Tate St. Ives, UK; and Kunsthalle Bern, Switzerland. Her work is included in the permanent collection of museums including the Art Institute of Chicago, Chicago, IL; Walker Art Center, Minneapolis, MO; Museum of Contemporary Art, Chicago, IL; Museum of Fine Arts, Boston, MA; Dallas Museum of Art, TX; Kemper Museum of Contemporary Art, Kansas City, MO; Indianapolis Museum of Art, IN; MUDAM, Luxemburg; Milwaukee Art Museum, WI; Madison Museum of Contemporary Art, WI; Knoxville Museum of Art, TN; Sheldon Museum of Art, Lincoln, NE; Daimler Contemporary, Berlin; Smithsonian American Art Museum, Washington, D.C. and the Victoria and Albert Museum, London. Grabner lives and works in Milwaukee.
---
Tri-Star Arts exhibitions are open to the public regularly from Tuesday through Saturday, 11:00 am until 5:00 pm, alongside iconic spaces within the Candoro Marble Building (located in the Vestal neighborhood of Knoxville).
Tri-Star Arts is based at the Candoro Marble Building with its main office, gallery space, and artist studios. Their gallery features exhibitions with a local, state-wide, and national focus on contemporary visual art.
Constructed in 1923, the Candoro Marble Building originally served as the offices and showroom for the Candoro Marble Company. It showcases a Charles Barber-designed Beaux-Arts architectural style, beautiful Tennessee pink marble, and an iconic tree-lined drive on its one-acre grounds. In early 2021, the Aslan Foundation completed a substantial restoration of the building. In partnership with the Aslan Foundation, Tri-Star Arts oversees programming at the site. It is located at 4450 Candora Avenue, Knoxville, TN 37920.
---
About Tri-Star Arts:
Tri-Star Arts serves Tennessee by cultivating and spotlighting the contemporary visual art scenes in each region while fostering a unified state-wide art scene. Tri-Star Arts programs promote art dialogue between the different cities in the state, and between the state and the nation.
Tri-Star Arts initiatives include a gallery space and artist studios at the historic Candoro Marble Building, Current Art Fund grants, 2023 Tennessee Triennial for Contemporary Art, state-wide exhibition projects and speaker series, and LocateArts.org web resource.