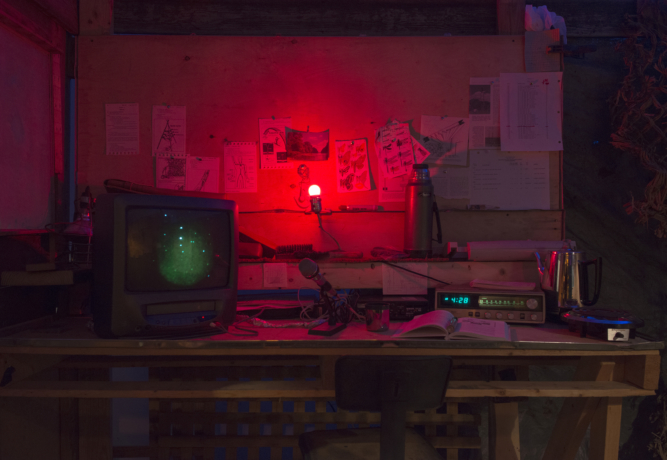 Exhibitions
THE RUNNERS
July 2, 2016 - August 9, 2016
Brent Stewart, Willie Stewart
NOTE: This is a Seed Space exhibition, curated by Rachel Bubis. Seed Space was founded by Adrienne Outlaw.

---
"It's Easyriders meets James Turrell."
The Runners is the debut work by artists Brent Stewart and Willie Stewart working in tandem on ongoing artworks en-flux that become a conceptual platform for various means of image making via multi-media, performance, sculptural and object installation presenting the plight of two characters played by the artists themselves navigating the terrain of abstract, formal and traditional cinematic narratives within and outside the context of the contemporary art milieu.
The exhibition includes an immersive installation and a single channel video Runners (2015) of the two artists smuggling a concealed case wrapped in a dirty, mauve towel through the backwoods and back-roads of a rural setting towards a particular sacred destination. The installation work reconstructs a type of immersive cinematic freeze frame. This work is a behind-the-scenes look at the protagonist characters within an ongoing, fragmented narrative in which the setting, pieces and props are disconnected from the ongoing story.
About:
Brent Stewart is a multi-media artist, whose works range from painting, photography, and video installation to feature films. He is a Nashville native who received his MFA from Goldsmiths College, London, in 2003. In 2010, his work was included in the LA based Robert & Tiltons gallery show: "Projections: 31 of the most influential filmmakers of our time" and also selected in 2010 as Filmmaker Magazine's "25 New Faces of Independent Film". His photography has been featured in the Nike sponsored exhibition and published edition: Being True, "22 Years of American Youth". His short film, The Dirty Ones, premiered at the 2009 Sundance Film Festival, which was produced by film auteur Harmony Korine and the French fashion designer, agnés b. His work is represented by Zeitgeist Gallery in Nashville, TN.
Willie Stewartwas born in Gallatin, Tennessee, on December 30, 1982. His family were members of an outlaw motorcycle club. Willie was raised by his great-grandmother Doris, a seamstress, and was homeschooled by his grandmother Susan, a truck-stop waitress. On weekdays, Willie went to work with his grandmother, where he played Dungeons & Dragons with the children of other waitresses. On weekends, when Willie's mother, Heidi, had free time, she took him to concerts. Together they saw the Melvins and Kiss at The Pyramid in Memphis, Tennessee. In his teenage years, the subculture music and films of the 80's and 90's inspired him. After high school, Willie took a ten year academic break, during which time he studied analog electronics, played guitar professionally with Yoko Ono, and spent four years as a commercial display artist, before returning to the Cooper Union to complete his Bachelor's of Fine Art degree.
---
Review: "Strange Rituals: Brent Stewart and Willie Stewart at Seed Space, Nashville" by Joe Nolan, Burnaway, 1 Aug. 2016, http://burnaway.org/review/brent-and-willie-stewart-seed-space/