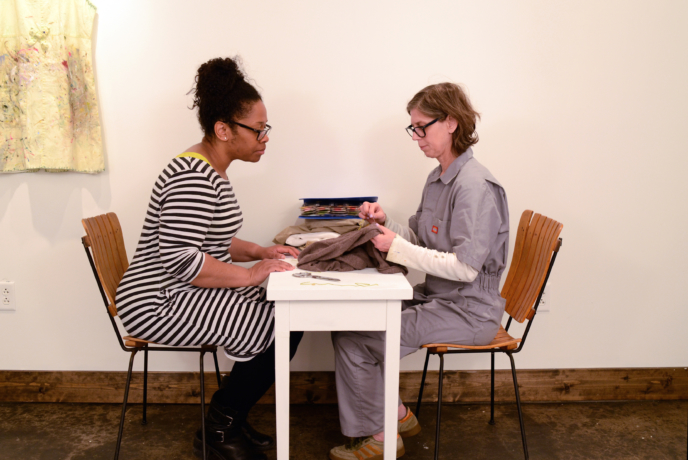 Exhibitions
THE REPAIR PROJECT (AND OTHER AFFAIRS OF JUST PLAIN LIVING)
May 7, 2016 - June 6, 2016
Mary Addison Hackett
NOTE: This is a Seed Space exhibition, curated by Rachel Bubis. Seed Space was founded by Adrienne Outlaw.

---
The Repair Project (And Other Affairs of Just Plain Living) is a conceptual piece/ socially engaged artwork in which Hackett mends items in need of repair as a starting point for a discussion about labor, use-value, and exchange. For the project at Seed Space, Hackett's mended work clothes will be on view during the exhibition. During the opening reception, Hackett will have a small workstation where she will sit and mend. Visitors may bring in an item to be repaired on site or left for donation. At the end of the exhibit, there will be a closing reception celebrating the repairs. Through this exchange, members of the community will have an opportunity to participate in a reflective and accessible cultural experience.
About:
Mary Addison Hackett holds an MFA in Studio Art/Video from the University of Illinois at Chicago. Hackett's practice, which spans painting, film/video and interdisciplinary projects, examines the construction of meaning, memory, and representation in day-to-day life. She has exhibited extensively since the 1990s, including solo shows with Kristi Engle Gallery (Los Angeles); John Davis Gallery (Hudson, NY); David Lusk Gallery, Tinney Contemporary (Nashville, Tennessee); and most recently, Marcia Wood Gallery (Atlanta). Group shows include the Torrance Art Museum, Acme., Weekend, (Los Angeles); SUGAR (Brooklyn, NY). Her short films have screened at festivals throughout the U.S. and abroad, including The New York Underground Film Festival, The Aurora Picture Show, and The Prague Independent Film Festival. Her work is included in several compilations and has been reviewed critically in the LA Times, Atlanta Journal-Constitution, Burnaway, and other publications. Recent honors include a project grant from The Tennessee Arts Commission and a residency at The Hambidge Center for the Creative Arts & Sciences.
---
Review: "Mending as Metaphor: Mary Addison Hackett at Seed Space, Nashville" by Erica Ciccarone, Burnaway, 23 May. 2016, http://burnaway.org/review/meding-as-metaphor-mary-addison-hackett
Review: "Seed Space examines art of mending" by Sara Estes, The Tennessean, 29 May. 2016, http://www.tennessean.com/story/life/arts/2016/05/29/seed-space-examines-art-mending/84787424/