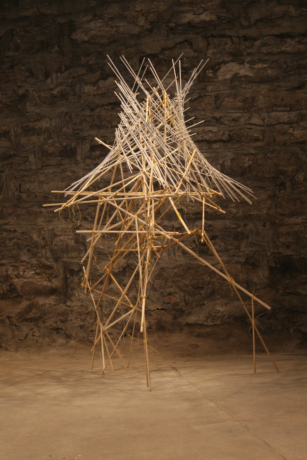 Exhibitions
THE PLACE YOU WILL WAIT FOR THE REST OF YOUR LIFE
November 1, 2014 - December 31, 2014
Greg Pond
NOTE: This is a Seed Space exhibition, curated by Rachel Bubis. Seed Space was founded by Adrienne Outlaw.

---
The Place You Will Wait for the Rest of Your Life is an exhibition that combines Greg Pond's previous work with a documentary project he has undertaken over the last 9 months. Since January 2014, Pond has been working with photographer Amy Johnson on an ongoing documentary project about the community of Patten Towers, a Section 8 housing facility in Chattanooga, Tennessee. The project follows several residents, developing unique works in collaboration with each person. One of the residents is man named Crazy Horse, who possesses a remarkable creative brilliance. This exhibition involves Pond's sculpture sound and video work, Crazy Horse's writing and collages, and photography made in collaboration Amy Johnson. Pond has made sculptures, video, and sound that extrapolate upon his views of working on the documentary that meld with his own individual heuristic practice. The collection of works circulates around notions of how each of us psychologically locate ourselves within our surroundings and the resultant desires that develop from this sense of place.

About:
Greg Pond is a professor at the University of the South and a founding member of Fugitive Projects in Nashville. Pond also works as an independent writer, curator, and lecturer. Some of his recent projects have been hosted by the Egyptian Ministry of Culture, the Jamaican Film Academy, the Frist and Cheekwood Museums in Nashville, The Elizabeth Foundation of New York, and the Hunter Museum. His work is represented by the Zeitgeist Gallery in Nashville.
---
Review: "Greg Pond Branches Out At Seed Space" by Sara Estes, Arts Nash, 15 Dec. 2014, http://artsnash.com/visualarts/greg-pond-seed-space/
Review: "The Waiting Game: Greg Pond at Seed Space in Nashville" by Joe Nolan, Burnaway, 10 Dec. 2014, http://burnaway.org/waiting-game-greg-pond-seed-space-nashville/