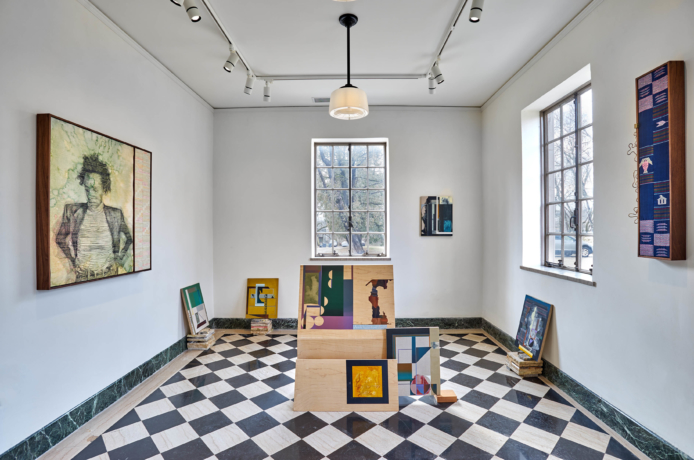 Exhibitions
TENNESSEE TRIENNIAL: RE-PAIR (FEAT. KENTURAH DAVIS AND RUBENS GHENOV)
January 27 - May 7th
Kenturah Davis, Rubens Ghenov
Tri-Star Arts is pleased to present Tennessee Triennial: RE-PAIR in their main gallery at the historic Candoro Marble Building. A two-person show, Tennessee Triennial: RE-PAIR - part of the Tennessee Triennial for Contemporary Art, is composed of mixed media works by Kenturah Davis (Los Angeles, CA, USA / Accra, Ghana) and Rubens Ghenov (Knoxville, TN, USA). It opened on Friday, January 27, runs through Sunday, May 7.
A closing reception will be held on Friday, May 5, 2023 from 5:00- 8:00 pm (both artists in attendance). Additionally, there will be an artist talk on Saturday, May 6, 2023 from 11:00am- 12:00pm. Address: 4450 Candora Avenue, Knoxville, TN 37920
Curated by Brian R. Jobe, this exhibition was conceived with the 2023 Tennessee Triennial's "RE-PAIR" theme in mind, authored by Consulting Curator María Magdalena Campos-Pons. For Jobe, the artists' work interrelates beautifully due to their shared use of text, actual and implied, in an expansive way. He says, "They push text together and re-form presentations of language, expression, and communication. Davis and Ghenov challenge our recognition of pictorial imagery and create other worlds that invite us in from different angles and facets."
---
Kenturah Davis is an artist working between Los Angeles and Accra (Ghana). Her work oscillates between various facets of portraiture and design. Using text as a point of departure, she explores the fundamental role that language has in shaping how we understand ourselves and the world around us. This manifests in a variety of forms including drawings, textiles, sculpture and performances. Davis was commissioned by LA Metro to create a large-scale, site-specific work that was permanently installed on the new Crenshaw/LAX rail line in 2020. Her work has been included in institutional exhibitions in Africa, Asia, Australia and Europe. Davis earned her BA from Occidental College and MFA Yale University School of Art. Davis was an inaugural artist fellow at NXTHVN in New Haven, CT.
Rubens Ghenov was born in São Paulo, Brazil and immigrated to the US in 1989. He holds a BFA from Tyler School of Art (1999) and an MFA from Rhode Island School of Design (2010). Ghenov has shown in both solo and group exhibitions at Morgan Lehman Gallery (NY), Mindy Solomon Gallery, Miami (FL), Marginal Utility Gallery (PA), Ortega y Gasset Projects (NY), Geoffrey Young Gallery (MA), Whitespace Gallery, (GA), Hoffman LaChance (MO), Vanderbilt University Fine Arts Gallery (TN), TSA Brooklyn (NYC), Crosstown Arts (TN), Woodmere Art Museum (PA), the Philadelphia Museum of Art (PA) amongst others. He has been featured in Art in America, Hyperallergic, Bomb Magazine, Village Voice, ARTSATL, The Tennessean, Title Magazine and the Philadelphia Inquirer. Ghenov was the recipient of the Affiliated Fellowship at the American Academy in Rome in 2019. He is currently an Assistant Professor of Painting and Drawing at the University of Tennessee, Knoxville.
---
Tri-Star Arts exhibitions are open to the public regularly from Tuesday through Saturday, 11:00 am until 5:00 pm, alongside iconic spaces within the Candoro Marble Building (located in the Vestal neighborhood of Knoxville).
Tri-Star Arts is based at the Candoro Marble Building with its main office, gallery space, and artist studios. Their gallery features exhibitions with a local, state-wide, and national focus on contemporary visual art.
Constructed in 1923, the Candoro Marble Building originally served as the offices and showroom for the Candoro Marble Company. It showcases a Charles Barber-designed Beaux-Arts architectural style, beautiful Tennessee pink marble, and an iconic tree-lined drive on its one-acre grounds. In early 2021, the Aslan Foundation completed a substantial restoration of the building. In partnership with the Aslan Foundation, Tri-Star Arts oversees programming at the site. It is located at 4450 Candora Avenue, Knoxville, TN 37920.
---
About Tri-Star Arts:
Tri-Star Arts serves Tennessee by cultivating and spotlighting the contemporary visual art scenes in each region while fostering a unified state-wide art scene. Tri-Star Arts programs promote art dialogue between the different cities in the state, and between the state and the nation.
Tri-Star Arts initiatives include a gallery space and artist studios at the historic Candoro Marble Building, Current Art Fund grants, state-wide exhibition projects and speaker series, 2023 Tennessee Triennial for Contemporary Art, and LocateArts.org web resource.
---
image: Kenturah Davis, planar vessel XIII, 2023, photo credit: Ruben Diaz