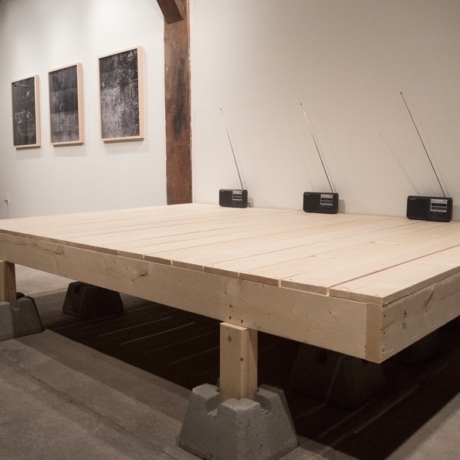 Exhibitions
TALKING TALKING HOUSE
January 12, 2015 - February 14, 2015
Andrew O'Brien
NOTE: This is a Seed Space exhibition, curated by Rachel Bubis. Seed Space was founded by Adrienne Outlaw.

---
Seed Space presents Talking Talking House, an installation by Andrew O'Brien on view from January 12 through February 14.
Comprised of a custom built deck and a series of Realty Electronics Talking House radio transmitters, Talking Talking House elucidates the fraught relationship between interior and exterior space in the modern American home.
Both the deck-as-addition and the Talking House transmitter embody a do-it-yourself spirit meant to enhance access: the deck brings the homeowner comfortably to the outdoors, the Talking House transmitter brings the potential homebuyer safely inside the private residence up for sale. In positioning these elements within the same context, O'Brien investigates what are essentially mirror images of desire orbiting a conversation centered on access and value in contemporary domestic life.
About:
Andrew O'Brien was born and raised in Southern Maryland. He recently relocated from New York City to serve as an Assistant Professor of Art at the University of Tennessee at Chattanooga. While in New York, O'Brien worked as head preparator for Yancey Richardson Gallery. He has also taught at the University of Oregon, where he received his MFA in 2009. His artistic practice is shaped by an early interest in science and the natural world, which led to an internship for NASA and Astronomy studies at the University of Arizona before he turned to fine art exclusively. Other vital experiences include conservation work with the Bureau of Land Management in Arizona and volunteer work with non-profit NGO's in the Southwest region, where he was exposed to the complex political and geographic environment of the US-Mexico border. He has exhibited at Archer Gallery, Clark College, Vancouver WA, Greenleaf Gallery, Whittier College, Whittier, CA, and Blackfish Gallery, Portland, OR among others.