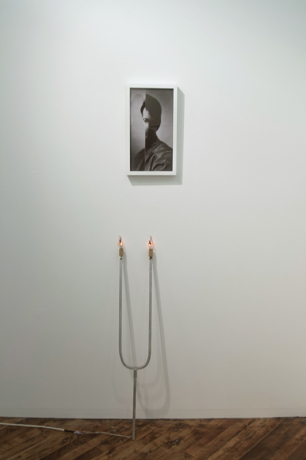 Exhibitions
SOUNDS FOR A THIRD EAR
September 7, 2013 - October 21, 2013
Jack Ryan
NOTE: This is a Seed Space exhibition, curated by Rachel Bubis. Seed Space was founded by Adrienne Outlaw.
---
Interested in strategies of bi-lateral stimulation, which relaxes and connects brain hemispheres to synthesize information and memory, Jack Ryan's work alternately calls attention between the left and right brain hemispheres, for purposes of shaping perception. Similar to the back and forth nature of REM sleep, Sounds for a Third Ear uses alternating light and sound effects to stimulate the brain's natural information processing system to encourage a heightened state of equilibrium and greater sense of calm.
About:
Jack Ryan lives in the Pacific Northwest and is the co-director of Ditch Projects in Springfield, OR. Select Solo show history includes Space 4 (San Diego), Maison Laurentine (Paris), and Archer Gallery (Vancouver WA). Group shows include The American University Museum (Washington DC), Powerhouse (Memphis), and Crawlspace (Seattle). His work has been screened at venues internationally.