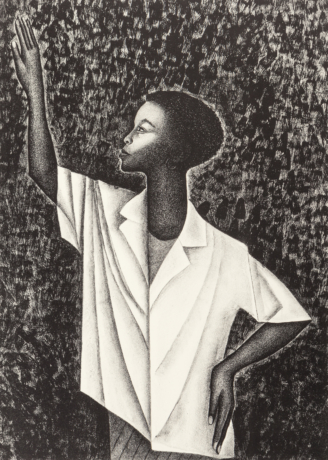 Exhibitions
SELECTIONS FROM THE COLLECTION OF SYLVIA AND JAN PETERS
July 14 - August 26th
Radcliffe Bailey, Romare Bearden, Sylvester Britton, Elizabeth Catlett, Joseph Delaney, Fred Jones, Jacob Lawrence, Steve Prince, Therman Statom, Steve Walker
Tri-Star Arts is pleased to present the next exhibition in their Main Gallery at the historic Candoro Marble Building. Selections from the Collection of Sylvia and Jan Peters opens Friday, July 14, 2023 and will run through Saturday, August 26, 2023. Co-curators: Brian R. Jobe and Haley Takahashi.
For Selections from the Collection of Sylvia and Jan Peters, ten original prints and works on paper have been chosen to illustrate the breadth of the Peters' collected works. These have been curated from amongst many hundreds in their collection and this exhibition features works by Black American artists including Radcliffe Bailey, Romare Bearden, Sylvester Britton, Elizabeth Catlett, Joseph Delaney, Fred Jones, Jacob Lawrence, Steve Prince, Therman Statom, and Steve Walker.
The Sylvia and Jan Peters Collection is itself a gathering of objects, paintings and sculptures that represents their interest in the creative endeavors of Black Americans from the WPA Period to the present. They regard their home as a place that allows them to live among inspiring works of art that they can experience everyday. For them, it is a regular reminder of the importance of creativity by Black artists.
Sylvia Peters states, "The Peters are happy to share these works with Knoxville area art lovers. We feel that everyone who sees them will recognize how art can engage, illustrate processes, and inspire people to love the creative force of art."
Tri-Star Arts is honored to present Selections from the Collection of Sylvia and Jan Peters and highlight the gravity and power of their holdings. After three decades in Knoxville, the Peters have made an indelible mark and continue to advocate for the impact of modern and contemporary art upon life today.
---
Tri-Star Arts exhibitions are open to the public regularly from Tuesday through Saturday, 11:00 am until 5:00 pm, alongside iconic spaces within the Candoro Marble Building (located in the Vestal neighborhood of Knoxville).
Tri-Star Arts is based at the Candoro Marble Building with its main office, gallery space, and artist studios. Their gallery features exhibitions with a local, state-wide, and national focus on contemporary visual art.
Constructed in 1923, the Candoro Marble Building originally served as the offices and showroom for the Candoro Marble Company. It showcases a Charles Barber-designed Beaux-Arts architectural style, beautiful Tennessee pink marble, and an iconic tree-lined drive on its one-acre grounds. In early 2021, the Aslan Foundation completed a substantial restoration of the building. In partnership with the Aslan Foundation, Tri-Star Arts oversees programming at the site. It is located at 4450 Candora Avenue, Knoxville, TN 37920.
---
About Tri-Star Arts:
Tri-Star Arts serves Tennessee by cultivating and spotlighting the contemporary visual art scenes in each region while fostering a unified state-wide art scene. Tri-Star Arts programs promote art dialogue between the different cities in the state, and between the state and the nation.
Tri-Star Arts initiatives include a gallery space and artist studios at the historic Candoro Marble Building, Current Art Fund grants, 2023 Tennessee Triennial for Contemporary Art, state-wide exhibition projects and speaker series, and LocateArts.org web resource.
---
image: Elizabeth Catlett, "Waving" (1989) 23" x 17", lithograph on cream wove paper, 13/100