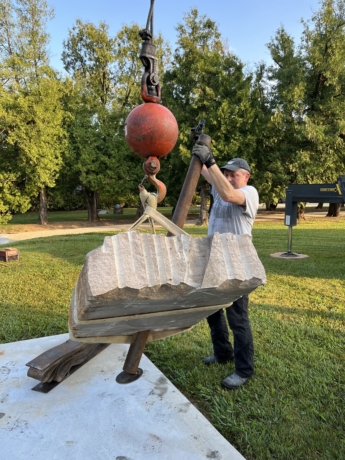 Exhibitions
ROOT
September 1, 2023 - December 31, 2024
Jason Sheridan Brown
Tri-Star Arts is pleased to present the next outdoor sculpture installed on the grounds of the historic Candoro Marble Building. Root by Jason Sheridan Brown (Knoxville, TN) opens Friday, September 1, 2023 and will remain on view through Tuesday, December 31, 2024. This large sculpture has been placed in sync with the exhibitions on view, extending the conversation outdoors to an accessible public space adjacent to the driveway entrance.
An opening reception will be held on Friday, September 1, 2023 from 5:00—8:00 pm (artist in attendance). The address is 4450 Candora Avenue, Knoxville, TN 37920 and admission is always free of charge.
Brown states of his work, "This site-specific sculpture titled Root, was created with materials that were scavenged, harvested, and manufactured from raw elements that have been mined and extracted from wild places. In the process of uncovering or exposing layers of geological information and materials in the natural landscape, I hope to reveal a new understanding about our human relationships to our environment."
The large piece of Tennessee marble was cut from a quarry in South Knoxville, not far from Candoro. The tree branch was harvested from a wooded area in South Knoxville and some of the steel was salvaged from the local steel mill scrap piles in Lonsdale.
Brown's sculptures are situated in urban and rural landscapes in order to question human relationships with the natural world. He is particularly interested in exploring transitional spaces where growth and destruction are happening simultaneously. Urban examples might include abandoned industrial spaces such as factories that are no longer operational, but have historical relevance to contemporary culture and future post-industrial purpose.
His recent work explores mountainous landscapes and rural cultures through a series of projects that question the controversial practice of mountaintop removal coal mining that is now prevalent throughout Southern Appalachia. This destructive mining practice has dramatically changed our regional landscapes throughout rural Tennessee, West Virginia, Virginia, and Kentucky.
Some of Brown's sculptures reflect mountains and valleys in form, while others use scale shifts to overlay elements of maps and data with varied perspectives. The titles of artworks are derived from the mining industry, specific geographic locations, and the tools of surveying landscapes. He is also creating projects that engage viewers in a conversation about the environmental cost of energy extraction from the earth as it relates to our human wants and needs in a consumer culture. He wants his objects and projects to challenge users to engage in a civic dialogue about individual, community, and place.
---
Jason Sheridan Brown received his M.F.A. from the Rhode Island School of Design in 1999, and has been teaching Sculpture at the University of Tennessee since 2001. Brown's artwork has been exhibited nationally, including solo and group exhibitions in 22 states, and internationally in Canada, Germany, and New Zealand.
In 2018, Brown completed a residency at the Banff Centre for Arts & Creativity in Alberta, Canada. He recently participated in artist residencies and cast iron sculpture symposiums at the Western North Carolina Sculpture Park and at Atelier Haus Hilmsen in Germany this summer. His public art projects have included temporary large-scale outdoor sculpture installations at the Walker Art Center in Minneapolis, Minnesota; North Carolina Arboretum in Asheville, North Carolina; Josephine Sculpture Park in Frankfort, Kentucky; and Franconia Sculpture Park in Shafer, Minnesota.
Brown is involved in a number of collaborative public art projects and his work engages other disciplines including architecture, ecology and landscape design. Throughout his art and teaching, Brown emphasizes interdisciplinary cooperation amongst creative thinkers such as his current traveling exhibitions and curatorial projects with the Land Report Collective.
---
Tri-Star Arts exhibitions are open to the public regularly from Tuesday through Saturday, 11:00 am until 5:00 pm, alongside iconic spaces within the Candoro Marble Building (located in the Vestal neighborhood of Knoxville).
Tri-Star Arts is based at the Candoro Marble Building with its main office, gallery space, and artist studios. Their gallery features exhibitions with a local, state-wide, and national focus on contemporary visual art.
Constructed in 1923, the Candoro Marble Building originally served as the offices and showroom for the Candoro Marble Company. It showcases a Charles Barber-designed Beaux-Arts architectural style, beautiful Tennessee pink marble, and an iconic tree-lined drive on its one-acre grounds. In early 2021, the Aslan Foundation completed a substantial restoration of the building. In partnership with the Aslan Foundation, Tri-Star Arts oversees programming at the site. It is located at 4450 Candora Avenue, Knoxville, TN 37920.
---
About Tri-Star Arts:
Tri-Star Arts serves Tennessee by cultivating and spotlighting the contemporary visual art scenes in each region while fostering a unified state-wide art scene. Tri-Star Arts programs promote art dialogue between the different cities in the state, and between the state and the nation.
Tri-Star Arts initiatives include a gallery space and artist studios at the historic Candoro Marble Building, Current Art Fund grants, 2023 Tennessee Triennial for Contemporary Art, state-wide exhibition projects and speaker series, and LocateArts.org web resource.