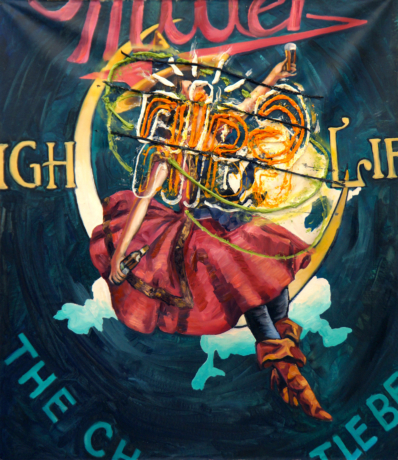 Exhibitions
RAG ARCANA
September 9, 2022 - November 5, 2022
Eleanor Aldrich
Tri-Star Arts is pleased to announce the next exhibition in their main gallery and project space at the historic Candoro Marble Building. A solo show, Rag Arcana, featuring recent work by artist Eleanor Aldrich of Knoxville, Tennessee opens Friday, September 9, 2022 and will run through Saturday, November 5, 2022.
A public reception will be held on Friday, November 4, 2022 from 5:00- 8:00 pm (artist in attendance). Aldrich will give an artist talk prior to the reception on Friday, November 4 at 3:30pm in the main gallery.
---
Eleanor Aldrich was born in Springerville, Arizona. A participant at the Skowhegan School of Painting and Sculpture in Maine, she also holds an MFA in Painting & Drawing from the University of Tennessee, Knoxville. She earned her BFA in Painting & Drawing through the Academie Minerva (Groningen, the Netherlands) and Northern Arizona University, Flagstaff. She was a participant in The Drawing Center's first Open Sessions, and works in a long-distance collaboration ALDRICH+WEISSBERGER with the artist Barbara Weissberger.
Eleanor has had solo shows in Boston, Nashville, Knoxville, Flagstaff, AZ, the University of Alabama, and the University of North Georgia. Her work has been shown at Saltworks Gallery and Whitespace (Atlanta, GA), The Drawing Center (New York, NY), 1708 (Richmond, VA), the Charlotte Street Foundation (Kansas City, MO), Grin (Providence, RI), and Ortega y Gasset (New York, NY). She is currently represented by Channel To Channel in Chattanooga. She has been awarded an Endowment for the Arts through the Whiteman Foundation, and the Herman E. Spivey Fellowship, and has been an artist in residence at Anderson Ranch in Colorado. Her work has been included in New American Paintings, and reviewed in Art in America and on Artforum.com.
---
Additionally, a temporal painting installation and performance by artist Ada Friedman titled Pathwork Play B. will be featured and on view in the Carriage House during the final 2 days of Rag Arcana.
---
Tri-Star Arts exhibitions are open to the public regularly from Tuesday through Saturday, 11:00 am until 5:00 pm, alongside iconic spaces within the Candoro Marble Building (located in the Vestal neighborhood of Knoxville).

Tri-Star Arts is based at the Candoro Marble Building with its main office, gallery space, and artist studios. Their gallery features exhibitions with a local, state-wide, and national focus on contemporary visual art.
Constructed in 1923, the Candoro Marble Building originally served as the offices and showroom for the Candoro Marble Company. It showcases a Charles Barber-designed Beaux-Arts architectural style, beautiful Tennessee pink marble, and an iconic tree-lined drive on its one-acre grounds. In early 2021, the Aslan Foundation completed a substantial restoration of the building. In partnership with the Aslan Foundation, Tri-Star Arts oversees programming at the site. It is located at 4450 Candora Avenue, Knoxville, TN 37920.
---
About Tri-Star Arts:
Tri-Star Arts serves Tennessee by cultivating and spotlighting the contemporary visual art scenes in each region while fostering a unified state-wide art scene. Tri-Star Arts programs promote art dialogue between the different cities in the state, and between the state and the nation.
Tri-Star Arts initiatives include a gallery space and artist studios at the historic Candoro Marble Building, Current Art Fund grants, state-wide exhibition projects and speaker series, 2023 Tennessee Triennial for Contemporary Art, and LocateArts.org web resource.