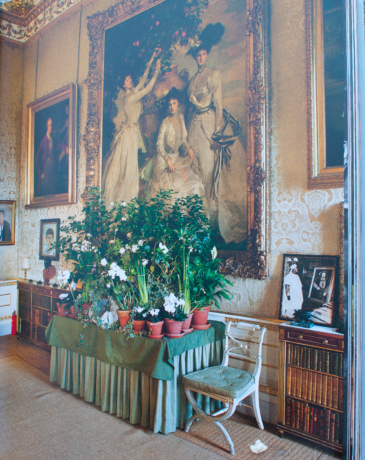 Exhibitions
OPULENT PAGES
September 3, 2016 - October 1, 2016
Hanita Schwartz
NOTE: This is a Seed Space exhibition, curated by Rachel Bubis. Seed Space was founded by Adrienne Outlaw.

---
"I worship the opulent pages that made me think less of myself, less than the artists and patrons who filled these pages. But that also made me the privileged participant in performing the tasks I wanted." -Hanita Schwartz

For her video-photography installation at Seed Space, Schwartz exhibits two bodies of work. A task based performed video recording of cleaning spaces in the book by the photographer François Halard, and photographs of erased images of paintings from a Romanian Art history book. The two bodies of work examine the way different means of representation connect history and identity.

About:
Hanita Schwartz was born in Tel-Aviv, Israel in a four-bedroom apartment where she saw the devil hanging above her head in the form of a European tapestry. Later, she would hang that tapestry as a logo at Andralamusya, a performance art space which she launched in 2013. At Andralamusya, Schwartz has directed, produced and participated in original performances by over 50 artists. She received her MFA in 2010 from the University of Washington and a Fine Arts and Art Education degree from Hamidrahsa College of Art in 2000. Schwartz has exhibited her work throughout Israel and Seattle, including CoCa, Soil gallery, Jacob Lawrence gallery, Vignette and PCNW, and has performed at the NEPO 5K and the Seattle April Fest.
image credit: "Original image by François Halard with intervention (crumpled paper on floor) by Hanita Schwartz"