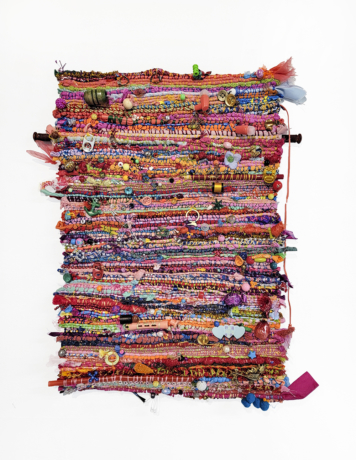 Exhibitions
ONE SOLITUDE SPEAKING
January 19, 2024 - March 30, 3024 (Reception: January 19 5:00pm - 8:00pm)
Mandy Cano Villalobos
Tri-Star Arts is pleased to announce an upcoming exhibition in their Golden Chain Gallery project space located at the historic Candoro Marble Building. One Solitude Speaking by Mandy Cano Villalobos (Grand Rapids, MI) opens Friday, January 19 and will run through Saturday, March 30, 2024. This show is located within the unique architectural space of a narrow wooden stairwell.
An opening reception will be held on Friday, January 19, 2024 from 5:00—8:00 pm (artist in attendance). The address is 4450 Candora Avenue, Knoxville, TN 37920 and admission is always free of charge.
She states, "My practice is a form of cultural scraping. I use discarded, "rewanted" objects to honor the stories of under-recognized individuals, peoples, and cultures. My materials are the remnants of everyday life – tattered clothes, orphan socks, broken toys, kitchen utensils, candy wrappers, metal scraps, and the like. Each object, embedded with the touch and memories of their former owners, are vessels of forgotten stories."
"I stitch these stories onto old carpets, stained placemats, and worn clothing to form abstract tapestries lush with texture and color. Each piece is instilled with craft and care, challenging our contemporary esteem for efficiency, achievement and bloated consumerism. I offer a different value system that prizes time, touch, and quiet persistence. Castoffs become sacred; the abandoned becomes precious. This transfer of worth reflects the empathetic potential for viewers to connect with the stories I present, to see themselves in one another, and to create a home that encompasses difference."
---
Mandy Cano Villalobos is an interdisciplinary artist whose work spans installation, 2D, textile, and sculpture. Her projects explore ideas of home, memory and cultural identity. Cano Villalobos exhibits throughout the United States, Latin America, and in Europe. Venues include Main Window Dumbo (Brooklyn, NY), Marisa Newman Projects (New York, NY), Zolla Leiberman (Chicago, IL), Salon ACME (Mexico City), Stiftung Konzeptuelle Kunst (Soest, DE), The Modern Gallery (Veszprém, Hungary), Museum of Contemporary Art, Arlington (VA), John Michael Kohler Arts Center (Sheboygan, WI), Boston Center for the Arts (Boston, MA), and many others. Her work has been reviewed in The New York Times, The Washington Post, ARTnews, Sculpture Magazine, Hyperallergic, and The Chicago Reader, among others. She is the recipient of awards and grants from multiple organizations including the Gottlieb, Puffin, Frey, and Chenven Foundations, the Michigan Arts and Culture Council, and the Foundation for Contemporary Arts. Cano Villalobos is represented by Proyecto T in Mexico City, Lafontsee Gallery in Grand Rapids, MI, and drj art projects in Berlin. She works in Brooklyn, NY and Grand Rapids, MI.
---
Tri-Star Arts exhibitions are open to the public regularly from Tuesday through Saturday, 11:00 am until 5:00 pm, alongside iconic spaces within the Candoro Marble Building (located in the Vestal neighborhood of Knoxville).
Tri-Star Arts is based at the Candoro Marble Building with its main office, gallery space, and artist studios. Their gallery features exhibitions with a local, state-wide, and national focus on contemporary visual art.
Constructed in 1923, the Candoro Marble Building originally served as the offices and showroom for the Candoro Marble Company. It showcases a Charles Barber-designed Beaux-Arts architectural style, beautiful Tennessee pink marble, and an iconic tree-lined drive on its one-acre grounds. In early 2021, the Aslan Foundation completed a substantial restoration of the building. In partnership with the Aslan Foundation, Tri-Star Arts oversees programming at the site. It is located at 4450 Candora Avenue, Knoxville, TN 37920.
About Tri-Star Arts:
Tri-Star Arts serves Tennessee by cultivating and spotlighting the contemporary visual art scenes in each region while fostering a unified state-wide art scene. Tri-Star Arts programs promote art dialogue between the different cities in the state, and between the state and the nation.
Tri-Star Arts initiatives include a gallery space and artist studios at the historic Candoro Marble Building, Current Art Fund grants, 2023 Tennessee Triennial for Contemporary Art, state-wide exhibition projects and speaker series, and LocateArts.org web resource.