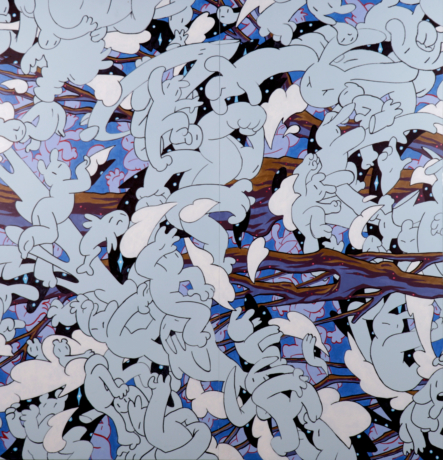 Exhibitions
ONE NIGHT ONLY
October 6th (Reception: October 6 5:00pm - 8:00pm)
Gardening Not Architecture AKA Sarah Saturday, Wesley Roden
Tri-Star Arts presents ONE NIGHT ONLY - a special performance by Sarah Saturday of Gardening, Not Architecture (Nashville, TN, USA) and art installation by Wesley Roden (Knoxville, TN, USA) on Friday, October 6, 2023 from 5:00—8:00 pm (Gardening, Not Architecture concert begins at 7:00 pm, both artists in attendance). The address is 4450 Candora Avenue, Knoxville, TN 37920 and admission is free of charge.
Listen to Gardening, Not Architecture here: https://gardeningnotarchitecture.bandcamp.com/album/voyage
Voyage is the latest multimedia project from Nashville-based music and performance artist Sarah Saturday (also known as Gardening, Not Architecture), featuring a mix of vibrant original songs (produced by Boom Forest) performed live to backing tracks, innovative short films (directed by Sarah's long-time collaborator, filmmaker Dycee Wildman), dance (choreographed by Joi Ware), audio sampling, and spoken word.
This live visual album is an invitation to audiences to tap into something truly vulnerable within themselves, creating a safe space for whatever feelings may arise. The stage play explores the shifting relationship we have with our complex and layered identities – those parts of ourselves both positive and negative that are always trying to protect us, sometimes to our detriment. Only by confronting and befriending these innermost parts of ourselves can we find peace within, and only from this ground of peace within can we truly begin the work of building a more peaceful world around us.
Sarah Saturday is a musician, producer, writer, and performance artist also known as Gardening, Not Architecture. She has released several albums, singles, remixes, videos, films, and multimedia performances since 2007, and played over 200 shows in the U.S. and Canada since 2009. She has scored music for film and TV, including creating the original score for the feature film Superpowerless. Since relocating to Nashville in 2012, Sarah has made a name for herself in the Nashville performance art community with her deeply vulnerable, complex, visually stunning performances. More info here.
"The dinner table is the crux of the American household. It is where stories are told, children are admonished, and unity is had. The large, oak table at Papaw's was no different. The old table served dual purposes. On one hand, the adults sat upright around blue placemats and plastic grape centerpieces. On the other, the young crawled between ornamented legs to play pretend under the tablecloth. There, secrets could be told and worlds had away from adults. There, I could find solace so long as I minded the crooked nails and staples protruding from the unfinished wood ceiling. In Judeo-Christian cosmology, the firmament is the expanse which separates the heavens from the earth. It is the ceiling between what is safe and what is unknown. My firmament was pierced by nails. In the time following the liquidation of my Papaw's estate, the prized table was half lost. It was entrusted to a cousin, or maybe an uncle. Since that time, the roof was blown off my world to where I had to look back to move forward. This work is my looking back; my consideration of the afterimage before seizing what lies beyond." - Wesley Roden, 2023
Wesley Roden currently resides in Knoxville where he uses mixed media to explore the intersection between digital culture and tradition. Wesley emerges from a background of painting scenes iconic to Southern Appalachia, but would later incorporate oversaturated tones and dynamism while still adhering to themes of familial experience and culture. Now, Wesley pairs mixed media with oil painting to embrace the undeniable footprint of the digital age either by modifying electronics or installing sculptural paintings. Ultimately, by augmenting his original practice with mediums which redefine painting both in scale and function, Wesley Roden questions the boundary between new and old; universal and insular; innovated and antiquated. More info here.
---
Tri-Star Arts exhibitions are open to the public regularly from Tuesday through Saturday, 11:00 am until 5:00 pm, alongside iconic spaces within the Candoro Marble Building (located in the Vestal neighborhood of Knoxville).
Tri-Star Arts is based at the Candoro Marble Building with its main office, gallery space, and artist studios. Their gallery features exhibitions with a local, state-wide, and national focus on contemporary visual art.
Constructed in 1923, the Candoro Marble Building originally served as the offices and showroom for the Candoro Marble Company. It showcases a Charles Barber-designed Beaux-Arts architectural style, beautiful Tennessee pink marble, and an iconic tree-lined drive on its one-acre grounds. In early 2021, the Aslan Foundation completed a substantial restoration of the building. In partnership with the Aslan Foundation, Tri-Star Arts oversees programming at the site. It is located at 4450 Candora Avenue, Knoxville, TN 37920.
About Tri-Star Arts:
Tri-Star Arts serves Tennessee by cultivating and spotlighting the contemporary visual art scenes in each region while fostering a unified state-wide art scene. Tri-Star Arts programs promote art dialogue between the different cities in the state, and between the state and the nation.
Tri-Star Arts initiatives include a gallery space and artist studios at the historic Candoro Marble Building, Current Art Fund grants, 2023 Tennessee Triennial for Contemporary Art, state-wide exhibition projects and speaker series, and LocateArts.org web resource.