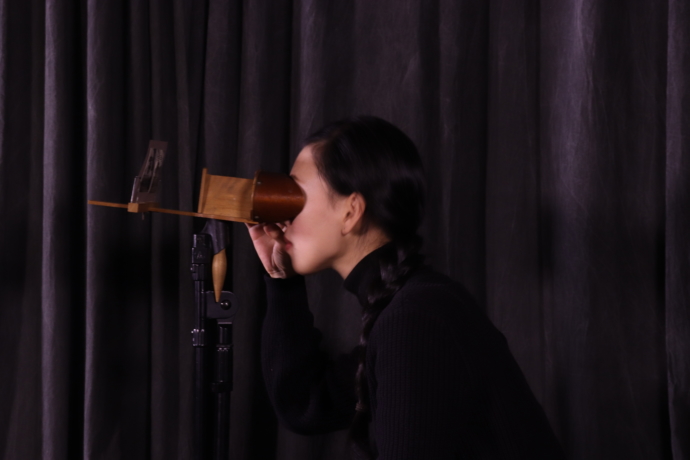 Exhibitions
MÊME PAS, POURTANT PROCHE | NOT EVEN, YET CLOSE
May 6, 2022 - July 5, 2022
Quỳnh Lâm
Tri-Star Arts is also pleased to announce a new exhibition in their Golden Chain Gallery project space located at the historic Candoro Marble Building. même pas, pourtant proche | not even, yet close by Quỳnh Lâm opens Friday, May 6, 2022 and will run through Saturday, July 9, 2022. This exhibition has been installed within the unusual architectural space of a steep wooden stairwell. Public receptions will be held on Friday, May 6, 2022 from 5:00- 8:00 pm and Friday, July 2, 2022 from 5:00- 8:00 pm.
---
Quỳnh Lâm is an interdisciplinary artist and Fulbright scholar with a background in architecture, working on conceptual and archival projects, Quỳnh has created a diverse body of work in performance, video, painting, and installation, that highlights the tensions between personal and collective memory, particularly the experiences of herself as a Vietnamese woman both in Vietnam and abroad.
She is a winner of The 2021 American Austrian Foundation Seebacher Prize for Fine Arts; a recipient of Special Jury Prize – 2019 Art Future Prize in Taiwan; a presenter at the international conference "ReVIEWING Black Mountain College 11"; and artist fellow at Ragdale Foundation (Illinois, USA), Hambidge Center for Creative Arts & Sciences (Georgia, USA); and Oak Spring Garden Foundation (Virginia, USA).
Quỳnh has exhibited work in Vietnam and abroad; some highlights include The Factory Contemporary Arts Center (Ho Chi Minh City), Art Formosa (Taipei), The Vincom Center for Contemporary (Hanoi), Richard Koh Fine Art Gallery (Singapore), Gallery ONKAF (New Delhi), Mana Contemporary (New Jersey, Chicago, Miami) – in partnership with CADAF (Contemporary & Digital Art Fair), Stamford Arts Center (Singapore), Museum of Contemporary Art Nashville (MOCAN), Palazzo Costanzi Museum (Trieste), Moggio Udinese (Udine), and A.I. Gallery (London).
Her works have been featured in many publications: Imago Mundi–Vietnam: New Winds (Luciano Benetton Collection, 2015), Saigon Artbook (edition 6, 2016), Frame to Focus: Vietnamese American Women Artists (sponsored by The Catherine G. Murphy Gallery, 2020), Black Mountain College Museum + Arts Center Journal (Volume 12: Expanding the Canon, 2021), Reconnexions, la Photographie en Transition (Textuel éditions, 2022), and have been accessioned to several libraries, e.g. the MoMA, Yamamoto Gendai, Bay Library, Salon Saigon, Dia Project, UCLA library, UTK John C. Hodges Library (Special Collections), and other art hubs.
---
This exhibition is open to the public regularly from Tuesday through Saturday, 11:00 am until 5:00 pm, alongside iconic spaces within the Candoro Marble Building (located in the Vestal neighborhood of Knoxville).
Tri-Star Arts is based at the Candoro Marble Building with its main office, gallery space, and artist studios. Their gallery features exhibitions with a local, state-wide, and national focus on contemporary visual art.
Constructed in 1923, the Candoro Marble Building originally served as the offices and showroom for the Candoro Marble Company. It showcases a Charles Barber-designed Beaux-Arts architectural style, beautiful Tennessee pink marble, and an iconic tree-lined drive on its one-acre grounds. In early 2021, the Aslan Foundation completed a substantial restoration of the building. In partnership with the Aslan Foundation, Tri-Star Arts oversees programming at the site. It is located at 4450 Candora Avenue, Knoxville, TN 37920.
---
About Tri-Star Arts:
Tri-Star Arts serves Tennessee by cultivating and spotlighting the contemporary visual art scenes in each region while fostering a unified state-wide art scene. Tri-Star Arts programs promote art dialogue between the different cities in the state, and between the state and the nation.
Tri-Star Arts initiatives include a gallery space and artist studios at the historic Candoro Marble Building, Current Art Fund grants, state-wide exhibition projects, a speaker series, digital content, the 2023 Tennessee Triennial, and the LocateArts.org web resource.