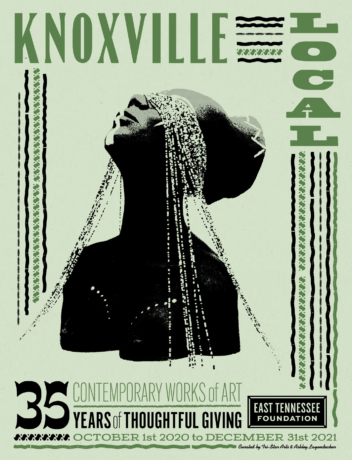 Exhibitions
KNOXVILLE LOCAL (CURATED BY ASHLEY LAYENDECKER)
Tri-Star Arts is pleased to present Knoxville Local, an exhibition project in Knoxville, TN at the East Tennessee Foundation (520 W. Summit Hill Drive, Suite 1101, Knoxville, Tennessee). The show's Guest Curator is East-Tennessee native Ashley Layendecker and it features 23 Knoxville-area visual artists.

The exhibition will be on view virtually at its outset, with expected in-person viewing opportunities coming in 2021 (more details, web pages, and interactive media to come). Knoxville Local will run from October 1, 2020, through December 31, 2021. The show coincides with the 35th anniversary of the ETF in 2021.

---
About Knoxville Local:
Knoxville Local has been guest curated by Ashley Layendecker and features the work of 23 Knoxville-area artists including Ashley Addair, Eleanor Aldrich, Nuveen Barwari, Brianna Bass, Joshua Bienko, Eric Cagley, Nick DeFord, Lynne Ghenov, Michael Giles, Spencer Grady, Daniel Hughes, Quynh Lam, Mary Laube, Marta Lee, Paul Lee, Nyasha Madamombe, Erica Mendoza, Althea Murphy-Price, Jing Qin, Kayla Rumpp, Jered Sprecher, Megan White, and David Wolff.
*poster image: Nyasha Madamombe/ poster design: Sarah Shebaro, Striped Light
About the East Tennessee Foundation:

ETF is a public charity and community foundation created by and for the people of East Tennessee. Serving 25 counties within East Tennessee, ETF consists of many donors joined together to make the region they love a better place. ETF seeks to build endowments, creating a permanent source of philanthropic funding for the East Tennessee region. For more information, visit easttennesseefoundation.org.