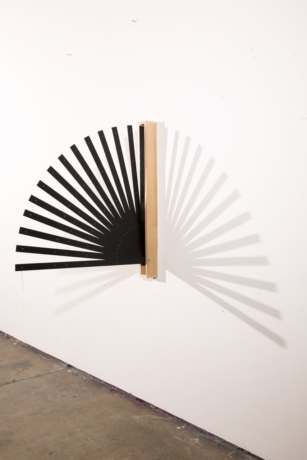 Exhibitions
KENTURAH DAVIS + DESMOND LEWIS
Tri-Star Arts + Delta Axis present a two-person exhibition featuring Kenturah Davis (Los Angeles, CA) + Desmond Lewis (Memphis, TN).
Organized by: Brian R. Jobe (Tri-Star Arts), James Patterson (Delta Axis)
About:

Tri-Star Arts and Delta Axis share a mission to promote contemporary art in Memphis and to connect Memphis to the national arts network. After years of dialogue, a collaboration between the two organizations emerged in the form of this exhibition. It featured an artist practicing in Memphis (Desmond Lewis) and an artist practicing outside of Tennessee (Kenturah Davis of Los Angeles, CA). The two artists were selected to exhibit their work together based on their innovative sensitivity to material, their exploration of social and relational content, and the critical acclaim associated with their work. This two-person show is one in a series of annual exhibition projects, organized by Tri-Star Arts, that features Tennessee artists and artists from out of state and organized in partnership with a local organization.
---
Kenturah Davis (Los Angeles, CA)
Kenturah Davis is an artist working between Los Angeles, New Haven and Accra (Ghana). Her work oscillates between various facets of portraiture and design. Using text as a point of departure, she explores the fundamental role that language has in shaping how we understand ourselves and the world around us. This manifests in a variety of forms including drawings, sculpture and performances. Davis was commissioned by LA Metro to create large-scale, site-specific work that will be permanently installed on the new Crenshaw/LAX rail line, opening 2020. Her work has been included in institutional exhibitions in Africa, Asia, Australia and Europe. Davis earned her BA from Occidental College and MFA Yale University School of Art.

Desmond Lewis is a sculptor who was born and raised in Nashville, TN. Lewis received his AA from Bard College at Simon's Rock in Great Barrington, MA in 2012, BS from Tennessee State University in Nashville, TN in 2014, and MFA from The University of Memphis in 2017. Selected group exhibitions include Current Collapse at Ruddell Gallery in 2017 in Spearfish, SD, Price is Right at David Lusk Gallery in 2017 in Memphis, TN, Equality Matters at Mildred Cox Gallery in 2017 in Fulton, MO, and The Collective Presents: Liberation at the Clough-Hanson Gallery at Rhodes College in 2018 in Memphis, TN. Public and private collections include the Penland School of Crafts, Carolina Bronze Sculpture Park, City of Lenoir, NC, City of Hickory, NC, Vermont Carving and Sculpture Center, The University of Memphis, Soulsville USA, NexAir LLC, Skowhegan Parks and Recreation, and the Stax Museum of American Soul Music. In 2017, He was named one of the 100 Interesting and Influential People of Memphis. Residencies include the Pittsburgh Glass Center (2018), Skowhegan School of Painting and Sculpture (2018), Haystack Mountain School of Crafts (2017), and the Vermont Carving and Sculpture Center (2016). His studio is based in Memphis, TN.
---
image: Kenturah Davis

---
Sponsored by: