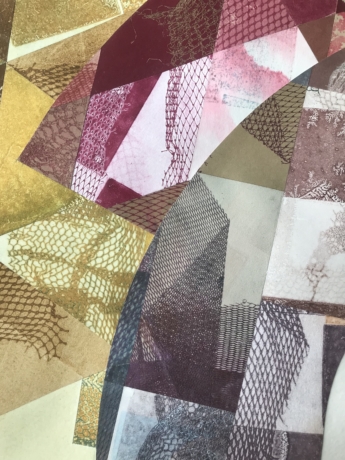 Exhibitions
INTERNAL LOGIC
May 19 - July 8th
Kimberly Dummons, Tracy Treadwell
Tri-Star Arts is pleased to present the next exhibition in their Main Gallery at the historic Candoro Marble Building. A two-person show, Internal Logic, featuring recent mixed media works by artists Kimberly Dummons (Murfreesboro, TN, USA) and Tracy Treadwell (Memphis, TN, USA) opens Friday, May 19, 2023 and will run through Saturday, July 8, 2023. Curator: Brian R. Jobe.
An opening reception will be held on Friday, May 19, 2023 from 5:00- 8:00pm (both artists in attendance). There will be an artist talk with Dummons and Treadwell beforehand at 3:30pm. Address: 4450 Candora Avenue, Knoxville, TN 37920.
---
About the Artists:
Kimberly Dummons is an Associate Professor of Art and Design at Middle Tennessee State University (Murfreesboro, TN), where she primarily teaches Two-Dimensional Design and Three-Dimensional Design. Originally from Baton Rouge, LA, she earned her B.A. in Art from Xavier University of Louisiana, and her M.F.A. in Studio Art, with a Sculpture concentration, from the University of New Orleans. Her work is included in several collections, and she has a public sculpture, commissioned by the City of New Orleans, Buddy Bolden, located in Louis Armstrong Park. Her work has been reviewed and published, both regionally and nationally, in various publications, including: Sculpture magazine and Art Papers.
Tracy Treadwell's work has been featured in regional exhibitions and publications in the Mid-South, including the 60th Annual Delta Exhibition (Little Rock, AR) and the Southeastern College Art Conference exhibition (Chattanooga, TN). She completed her first public art work in 2022 as a New Public Sculptors Fellow for the UrbanArt Commission. Tracy currently serves on the Selection Committee for a public work also sponsored by the UrbanArt Commission. Her current/ upcoming exhibits include an installation at Off the Walls Gallery (Memphis, TN) and a two-person show at Tri-Star Arts, Candoro Marble Building (Knoxville, TN). Of her work, Treadwell says: "As an assemblage sculptor using found materials, I liberate objects from their discarded, liminal condition. My work addresses many negotiations, including how object mass relates to body mass, and how color, object, and space trigger memory. The work is in revolving dialogue with my lived and perceived experiences, both made ultimately malleable due to the faulty and protective nature of memory. If the body is a house and a body has memory, then so must the house and the shelf and the door."
---
Tri-Star Arts exhibitions are open to the public regularly from Tuesday through Saturday, 11:00 am until 5:00 pm, alongside iconic spaces within the Candoro Marble Building (located in the Vestal neighborhood of Knoxville).
Tri-Star Arts is based at the Candoro Marble Building with its main office, gallery space, and artist studios. Their gallery features exhibitions with a local, state-wide, and national focus on contemporary visual art.
Constructed in 1923, the Candoro Marble Building originally served as the offices and showroom for the Candoro Marble Company. It showcases a Charles Barber-designed Beaux-Arts architectural style, beautiful Tennessee pink marble, and an iconic tree-lined drive on its one-acre grounds. In early 2021, the Aslan Foundation completed a substantial restoration of the building. In partnership with the Aslan Foundation, Tri-Star Arts oversees programming at the site. It is located at 4450 Candora Avenue, Knoxville, TN 37920.
---
About Tri-Star Arts:
Tri-Star Arts serves Tennessee by cultivating and spotlighting the contemporary visual art scenes in each region while fostering a unified state-wide art scene. Tri-Star Arts programs promote art dialogue between the different cities in the state, and between the state and the nation.
Tri-Star Arts initiatives include a gallery space and artist studios at the historic Candoro Marble Building, Current Art Fund grants, 2023 Tennessee Triennial for Contemporary Art, state-wide exhibition projects and speaker series, and LocateArts.org web resource.