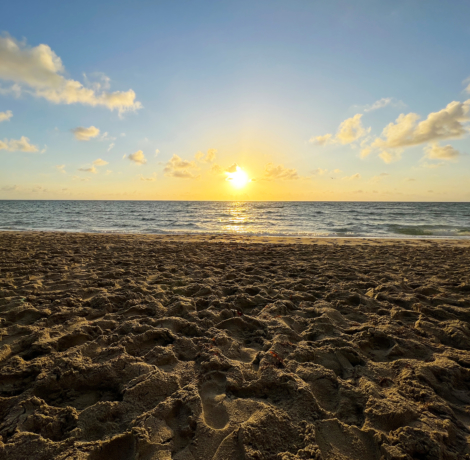 Exhibitions
INGRID Y EL MAR
May 5th
Johana Moscoso
The evening reception at Tri-Star Arts on Friday, May 5 will feature a screening of Ingrid y el mar, a film by 2021 Current Art Fund grantee Johana Moscoso (Memphis, TN, USA), in the carriage house of the Candoro Marble Building.
---
This video is part of a body of work called The Ingrid López Project. I have been working on this project for close to 6 years. Ingrid, my second cousin, passed away in 2016. She was dedicated to helping Latine immigrants start their lives in the USA. The Ingrid López Project includes multiple interdisciplinary projects that deliver a social statement about immigration and the vulnerable experience of "Otherness" in America.
The video "Ingrid y el mar" utilizes abstraction footage of locations that were important to Ingrid in order to respect the privacy and intimacy of her community. Ingrid worked in the "naviera" or shipping container industry. This was a very important aspect of her life because it allowed her to travel to many places in Central America, the Caribbean, and South America. These experiences introduced her to many people and their stories. The shipping container, traveling across oceans, parallels migration and immigration. In this process shipping containers become a metaphor for many immigration stories. Ingrid worked for a cargo shipping company that exported and imported goods throughout the Americas. One Christmas, she filled a shipping container with toys for kids living in poverty to send to San Andrés Island, Colombia. I visited the island frequently during my childhood as my grandparents lived there, and my mother was born and grew up there. "Ingrid y el mar" merges these experiences, charged locations and ephemera of Ingrid's life into an abstract video expose.
- Johana Moscoso
---
About the artist:
Johana Moscoso (born 1981, Bogotá) is a Colombian - American artist currently living and working in Memphis, Tennessee. Moscoso's artwork explores co-narratives of South American and North American cultures from a subjective point of view. Gender roles, identity and migration are explored through movement and labor. Radical expressions inform materiality that manifests in a variety of mediums in large scale dynamic installations. Her application of textiles, sculpture, and performance activates physical environments. These performative installations conjure the feminine presence while celebrating culture and migration.