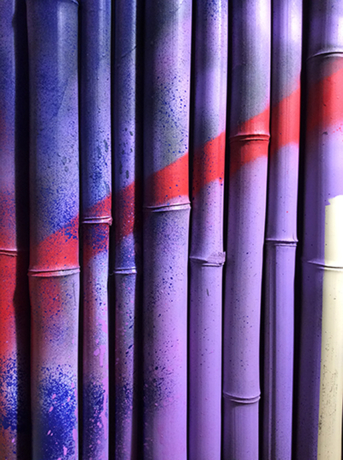 Exhibitions
FOUL SHOT
November 5, 2016 - December 31, 2016
Brandon Donahue
NOTE: This is a Seed Space exhibition, curated by Rachel Bubis. Seed Space was founded by Adrienne Outlaw.

---
For his interactive installation Foul Shot, Brandon Donahue will transform Seed Space into a half-court basketball gym using found objects and bamboo. Interested in the transformational nature of the vernacular, Donahue collects materials with the intention of adding to their history. His collection of mass-produced, publicly displayed and abandoned urban forms such as fallen street signs, basketballs, file cabinets, and hubcaps, are informed by traditions of folk art, hip hop, and street art and occupy a space that exists somewhere between low and high art culture.
About:
Brandon Donahue is a Memphis, TN native currently living and working in Nashville, TN. Donahue began airbrushing at the age of 12, doing t-shirts, murals, automotives, and body painting. He received his B.S. from Tennessee State University and M.F.A. from the University of Tennessee Knoxville. Donahue is currently an assistant professor of art at Tennessee State University.
---
Review: "Art and Basketball: The Alchemy of Brandon Donahue" by Erica Ciccarone, Nashville Arts Magazine, Dec. 2016, http://nashvillearts.com/2016/12/art-basketball-alchemy-brandon-donahue/
Review: "Black Ball: Brandon Donahue Slam-dunks Foul Shot at Seed Space" by Joe Nolan, Nashville Scene, 23 Nov. 2016, http://www.nashvillescene.com/arts-culture/visual-art/article/20844501/black-ball-brandon-donahue-slamdunks-foul-shot-at-seed-space