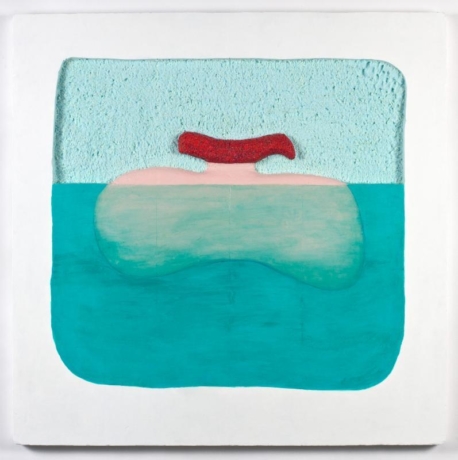 Exhibitions
F.E.A.R.S. (FINALLY EVERYTHING AS REMEMBERED SIMULTANEOUSLY)
September 6, 2014 - October 15, 2014
Carol Cole
NOTE: This is a Seed Space exhibition, curated by Rachel Bubis. Seed Space was founded by Adrienne Outlaw.

---
Seed Space is excited to present F.E.A.R.S. (Finally Everything as Remembered Simultaneously) by Carol Cole, Sept. 6th - Oct.15th.
Interested in art history and the art making process, Carol Cole's mixed media works examine the psychological aspect of creating imagery as a means to cope with and claim emotions. Inspired first by doodling negative space and allowing positive forms to emerge, her revealing art making act serves as a mechanism in which to to safely act out fears.
About:
Carol Cole's artistic career spans over forty years. Her surreal drawings from the 70's and her later mixed media breast sculptures are charged with a feminist critique derived from her life experiences. Cole was born in 1943 in Philadelphia, MS, and is now working in Greensboro, NC, where she is actively involved in the contemporary art community. She lives surrounded by the works of other notable artists, sharing their souls and spirits, in her art collection.
Her solo exhibitions include ADA gallery, Richmond, VA; Salem College Fine Arts Gallery, Winston-Salem, NC; Camera Oscura, San Casciano dei Bagni, Italy, and Green Hill Center, Greensboro, NC. Her work has been included in many group exhibitions in NYC galleries, just recently in Raving Disco Dolly on a Rock n' Roll Trolley at envoy enterprises. Other NYC venues include The Visible Vagina at Francis M. Naumann Fine Arts, Paper A-Z at Sue Scott Gallery, The Crooked Mirror at envoy gallery, and Body Language at George Adams Gallery. Her work has also been in the traveling exhibitions: Aquarius: On the Interaction of Water and the Human Being, in Austria and Germany; H20, Imagination's Matrix, in five venues across the USA; and Thinking in Blood; Conflict and Culture in the American South, which also traveled extensively in the USA. In 2007, Cole curated What F Word?, an exhibition at Cynthia Broan Gallery in NYC, of women artists.
Cole holds a BA from the University of Mississippi (1964) and attended the Art Institute of Santa Fe in the 1990s, studying with Lynda Benglis and Elizabeth Murray.