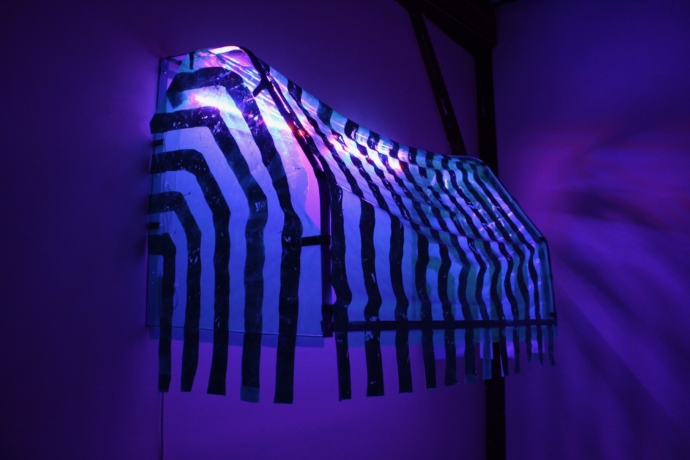 Exhibitions
DRUPE
June 3, 2017 - July 20, 2017
Abigail Lucien
A drupe. A pitted fruit. A soft fleshy skin pulled tight around sweet nectar. The pulp relentlessly clingy to the spaces between your teeth.

In repurposing the tropical, we glimpse a time that both precedes and follows us – a lush limbo of pre-colonialism and post-tropical where the past folds onto the present and begins anew. In Drupe, Abigail Lucien's sculptures, sound, and videos narrate an environment in which our desire to escape is tangled with what we are trying to leave behind. The work examines how our personal performances and experiences of race, gender, sexuality, and nationality are framed within our culture, while investigating where and when the truth in these performed themes of identity warp.
About:
Abigail Lucien spent her youth in Cap-Haitien, Haiti before settling with her mother and two elder sisters to Palm Coast, Florida. Lucien earned her BFA with Honors from Florida State University in Tallahassee, Florida and her MFA at the University of Tennessee, Knoxville. She is a recipient of the 2016 Screen Print Biennial Speedball Juror Award, a full-time apprenticeship at The Fabric Workshop and Museum in Philadelphia, PA, and served as an Artist-in-Residence at the Eugeniusz Geppert Academy of Fine Arts in Wrocław, Poland. National solo and group exhibitions include Atlanta Contemporary in Atlanta, GA, the Urban Institute for Contemporary Arts in Grand Rapids, Michigan, the Museum of Fine Arts in Tallahassee, FL, Woman Made Gallery in Chicago, IL, and MoMA PS1 in Long Island City, New York.
---
Review: "The Still Life: Abigail Lucien at Seed Space" by Mike Calway-Fagen, Temporary Art Review, October 26, 2017, http://temporaryartreview.com/the-still-life-abigail-lucien-at-seed-space/