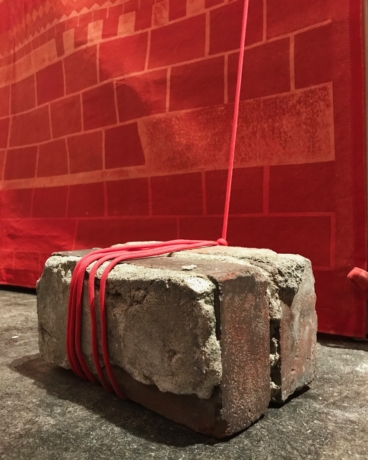 Exhibitions
BRICK MYTH
April 1, 2017 - May 20, 2017
Sage Dawson
NOTE: This is a Seed Space exhibition, curated by Rachel Bubis.

---
Brick Myth is inspired by Persian pleasure-pavilions: ornate, paneled tents pitched outdoors for entertaining and gathering. The tent utilizes ornamental patterns based on rescued 19th-century ornamental brick from the National Building Arts Center, a conservatory in Sauget, Illinois. The center houses more than 40,000 ornamental bricks in hundreds of designs and served as a study center for creating Brick Myth. During the 19th and 20th centuries, Saint Louis was an epicenter for the manufacturing of building materials, and much of the face and ornamental brick found in US cities originated in Saint Louis. Brick Myth is also inspired by the Saint Louis Art Museum's recent exhibition The Carpet and the Connoisseur, as well as Persian miniatures from the permanent collection. Like the rich sunshades, awnings, and fabric pavilions found in Persian miniatures, Brick Myth's fabric architecture is delicate. Ornamental bricks stack up the rust-like structure and hover over reclining viewers. The tent raises a complicated view of the American city that addresses structure and collapse, and quotidian imagery's influence on our lives.
About:
Sage Dawson is an artist examining dwelling rights, land use, and the identity of spaces. Her work investigates and interprets sites and objects, and documents the production and destruction of space. Sage holds an MFA in printmaking from the University of New Mexico with a minor in Museum Studies. She teaches at the Sam Fox School of Design and Visual Arts at Washington University, and is the Director of STNDRD, a gallery project based in Saint Louis. Sage has exhibited work at the Urban Institute for Contemporary Art, the Chicago Artists Coalition, Boston University, the City University of New York, and the International Print Center New York. Dawson is a recent recipient of the Denbo Fellowship at Pyramid Atlantic, a 2016 Mid America Print Council Grant, a residency at the Luminary Center for the Arts, and is a 2015 Joan Mitchell Foundation Award nominee. Her work has been featured in Elephant Magazine, From Here to There published by Princeton Architectural Press, and reviewed by Lori Waxman for 60 wrd/min art critic, and at Hyperallergic.