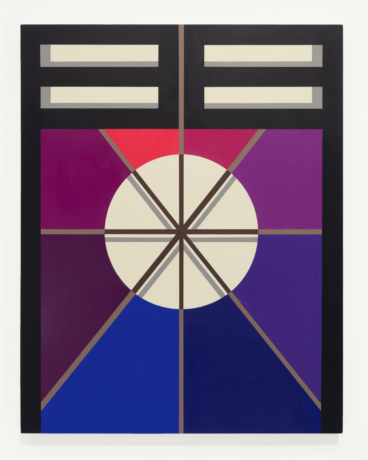 Exhibitions
AERIAL
July 15, 2022 - September 3, 2022
Mary Laube
Tri-Star Arts is pleased to announce the next exhibition in their main gallery at the historic Candoro Marble Building. A solo show, Aerial, featuring recent work by artist Mary Laube of Knoxville, Tennessee opens Friday, July 15, 2022 and will run through Saturday, September 3, 2022. This show also features a new music video with the Warp Whistle Project (Mary Laube + Paul Schuette).
A public reception will be held on Friday, September 2, 2022 from 5:00- 8:00 pm (artist in attendance). Laube will participate in a Q&A conversation with Brian R. Jobe (Director, Tri-Star Arts) prior to the reception on Friday, September 2 at 3:30pm in the main gallery.
---
Mary Laube (born Seoul, Korea, 1985) is Assistant Professor at University of Tennessee, Knoxville. She received her MFA (2012) from The University of Iowa, and her BFA (2009) from Illinois State University. Past exhibitions include Ortega y Gasset Projects (NYC), VCU Qatar (Doha), Monaco (St Louis), The Spring Break Art Show (NYC), and Coop Gallery (Nashville). Artist residencies include Yaddo, Wassaic Project, the Virginia Center for the Creative Arts, Vermont Studio Center, and Stiwdeo Maelor in Corris, Wales. Past publications include Art Maze Mag, Maake Magazine, and New American Paintings. In 2019, Mary received the Contemporary Visual Art Bronze Award from AHL Foundation. She is a co-founder of the Warp Whistle Project, a collaborative duo with composer Paul Schuette. Together, they make work that merges kinetic stage sets with music performance.
---
Tri-Star Arts exhibitions are open to the public regularly from Tuesday through Saturday, 11:00 am until 5:00 pm, alongside iconic spaces within the Candoro Marble Building (located in the Vestal neighborhood of Knoxville).

Tri-Star Arts is based at the Candoro Marble Building with its main office, gallery space, and artist studios. Their gallery features exhibitions with a local, state-wide, and national focus on contemporary visual art.
Constructed in 1923, the Candoro Marble Building originally served as the offices and showroom for the Candoro Marble Company. It showcases a Charles Barber-designed Beaux-Arts architectural style, beautiful Tennessee pink marble, and an iconic tree-lined drive on its one-acre grounds. In early 2021, the Aslan Foundation completed a substantial restoration of the building. In partnership with the Aslan Foundation, Tri-Star Arts oversees programming at the site. It is located at 4450 Candora Avenue, Knoxville, TN 37920.
---
About Tri-Star Arts:
Tri-Star Arts serves Tennessee by cultivating and spotlighting the contemporary visual art scenes in each region while fostering a unified state-wide art scene. Tri-Star Arts programs promote art dialogue between the different cities in the state, and between the state and the nation.
Tri-Star Arts initiatives include a gallery space and artist studios at the historic Candoro Marble Building, Current Art Fund grants, state-wide exhibition projects and speaker series, 2023 Tennessee Triennial for Contemporary Art, and LocateArts.org web resource.